Controversy in Derry City Council as new mayor elected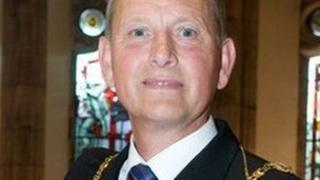 Sinn Fein's Kevin Campbell is the new mayor of Londonderry,he took up office following an annual general meeting on Monday night.
The Ulster Unionist Party's Mary Hamilton is the new deputy mayor.
She refused to let Councillor Campbell put the chain of office on her and instead she asked Derry City Council's chief executive.
The outgoing DUP mayor, Maurice Devenney, did not put the chain of office on his successor.
Kevin Campbell said the DUP and UUP need to explain their actions.
"The protocol, as far as I believe, is the outgoing mayor presents the incoming mayor with the chain.
"There are more important issues rather than squabbling over something like this.
"My priority for the year ahead is to put this city on the map nationally and internationally.
"This will help attract tourism and build on the current tourism industry," he said.
Mary Hamilton said it has always been up to the individual, how they receive the chains.
"Both chains belong to Derry City Council and the town clerk was putting the chain on the mayor so I wanted her to put it on me also.
"I was deputy mayor before and I worked for everyone.
"I will be doing the same this time," she said.
The outgoing DUP mayor, Maurice Devenney, denied he snubbed the new Mayor.
"I wouldn't get too worried about this as this is normal.
"People can choose what they want to do.
"I'm talking from a unionist point of view when I say we are in the middle of a peace process. There is a lot of work still to be done," he said.