Derry public art piece Mute Meadow left in the dark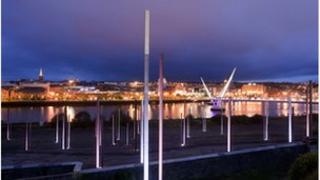 The artists behind Mute Meadow in Londonderry, the largest piece of public art in Ireland, said they are deeply concerned it is still not working.
They said they are distressed and disappointed, a year on from when it was due to shine its light across the Foyle.
Ilex, the urban regeneration company, said it has technicians on site this week to resolve the problem.
Mute Meadow cost £800k.
It sits at the Ebrington end of the Peace Bridge.
It consists of 40 upright metal poles, which are supposed to light up in different colours at night.
Those lights will be accompanied by recorded sounds form the city, conversations, poetry, noise and music.
Ilex, the agency that is in charge of the installation, said a number of issues have arisen.
Vong Phaophanit, Turner prize nominee and his co-creator, Claire Oboussier, have commented on the issue.
"'The protracted process in resolving the issues associated with the fabrication of the work concerns us deeply and we are as distressed and disappointed as everyone else that the work is not yet fully operational.
"The reasons for this are complex and beyond our personal and professional control."
They said they will cooperate with Ilex, the Arts Council of Northern Ireland, Derry City Council and all relevant parties.
They are confident that a resolution will soon be reached.
The visual arts officer for Derry City Council, Brendan McMenamin, said although he is not directly involved with the issue, he hopes Mute Meadow will soon be lit up.
"We are better to get things correct and have it operational.
"This issue regarding Mute Meadow resides with Ilex.
"People are working extremely hard to resolve it and they hopefully will," he said.