Free concerts planned for Derry to celebrate Clipper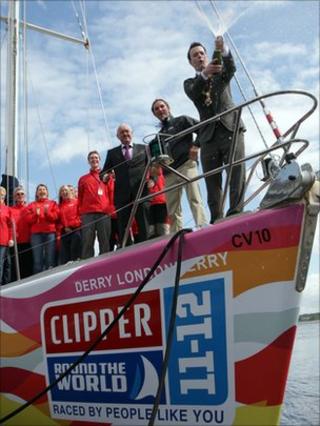 Two free concerts have been planned for Derry, as part of the celebrations for the Clipper Round the World Yacht race.
They will be held at Ebrington Square on 5 July and 6 July.
'The Undertones' will headline 'The Legenderry Concert' on Thursday 5 July.
Paul Casey, Paddy Nash and the Happy Enchiladas and 'Best Boy Grip' will also be on the line-up.
The Clipper Connections Concert will be held on 6 July.
It will celebrate links with the countries participating in the yacht race.
The Saw Doctors will be performing along with the Red Hot Chilli Pipers, James Peake experience and Eoghan Quigg. Dragon dancers and musical acts from around the world will also be at the event in Ebrington.
The first lot of tickets will be released for distribution on Saturday 22 June at Foyleside Shopping Centre between 13:00 BST and 15:00 BST
They can also be purchased from Cool Discs, Foyle St, between 13:00 BST and 15:00 BST and Lisnagelvin Shopping Centre between 16:30 BST 19:00 BST.
A second release of tickets will also be available for collection from information points along the Quay during the Clipper Homecoming Festival - which starts next Friday.
Tickets will be limited to two per person and will be given out to over 16's as under 16's must be accompanied by an adult.