Arson attack victim "feared for life"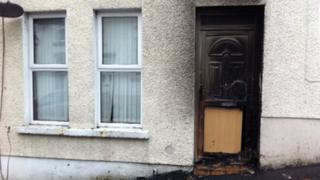 A 27-year-old mother in Londonderry said she feared for her life during an arson attack on her home on Saturday morning.
A wheelie bin was set on fire and pushed towards the front door of the house in Cuthbert Street in the Waterside.
Rubbish was also set alight at the back door of the property which blocked all exit points.
Lisa Cruickshank said she was alerted by the smoke alarm.
"I saw all the smoke on the stairs and ran back into the bedroom," she said.
"I grabbed my top and put it over my mouth, ran down the stairs and out the back door.
"Fear just came over me, I really did think that I wasn't going to get out."
The mother of two said she was glad her children were not there at the time of the attack.
"I don't think I would have got out if they had been there," she said.
"I can't go back to it, I wouldn't be able to sleep."
The police have described the incident as arson and have asked anyone with information to contact them.