Police attacked during disturbances in Londonderry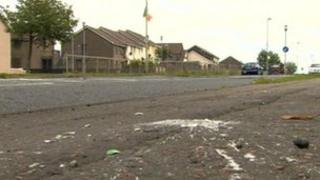 Police have been attacked with petrol bombs and other missiles during a second night of disturbances in Londonderry.
They came under attack during a disturbance in Moss Park in the Galliagh area around 21:00 BST on Friday.
A 21-year-old male was arrested for disorderly behaviour.
Officers were also attacked during trouble in Northland Road at 01:00 BST on Saturday.
A 17-year-old male youth was arrested for disorderly behaviour and later released.
Around 01:30 BST on Saturday, police and fire crews extinguished a small rubbish fire near the sub station in Galliagh Park.
There were no reports of any injuries.