Police attacked for third night in Moss Park, Londonderry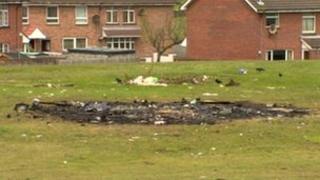 Police have come under attack for a third night in the Galliagh area of Londonderry.
Officers were called to Moss Park around 23:00 BST on Saturday following reports that youths were blocking the road and setting fire to bins.
When they arrived, a number of petrol bombs and other items were thrown at police vehicles. Tyres and other rubbish were set alight on the Glengalliagh Road.
No-one was injured.
Police said calm was restored to the area at 02:30 BST on Sunday.
Two men, aged 18 and 43, were arrested during disturbances in the area on Friday evening.
Ch Insp Gary Eaton described the disorder as "disheartening".
"Fortunately no-one has been hurt during the disturbances which do not reflect the wishes of the majority of the community," he said.
"We will continue dialogue and partnership working with those who are interested in making their communities a safer and more peaceful place in which to live."
Sinn Fein councillor Elisha McCallion said the entire community was "suffering" due to the trouble.
"This has to stop, it cannot go on night after night," she said.
"Those behind the wrecking and burning have only succeeded in terrorising local residents by inflicting inconvenience upon them and the wider public."