How community gardens in Londonderry are changing lives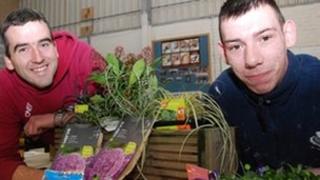 When 20-year-old Lee Canning's baby son Aiden was born, he knew life had to change.
But little did he know that in a small garden, tucked in between rows of houses in the Ballymagroarty area of Londonderry, that he would find what he had been looking for.
There are seven community gardens in Derry, the majority of them in built-up residential areas with local people growing and harvesting their own vegetables and herbs.
The gardens make the most of the limited inner-city space available, with seeds being sowed in small green spaces, lane-ways and wherever anything can be grown.
Lee joined the group that tends the Ballymagroarty garden 10 months ago and hasn't looked back since.
"I didn't know the names of some vegetables before I came here, now I grow my own. In my own back garden too," he said.
Lee's involvement with the garden has also given him an unexpected career path, he is now studying horticulture at the North West Regional College
He hopes to work full-time in gardening after his studies.
The change in course of Lee's life has came as a surprise, none more so than to Lee himself.
"Life before was pretty boring," he said.
"Some people I grew up with who were my friends, they were doing things that they shouldn't have been doing. I was getting involved too. I didn't want that though, I was always looking for something to steer me away from it.
Determined
"My family are all proud because they never thought I would be here doing this, the complete opposite of what I was doing
"My friends don't see the reason behind it. They think it's an old people's thing and don't have any interest in it at all. That hasn't put me off though."
Sixty-four-year-old Banty Nash has been involved with the Ballymagroarty garden since it started last year.
He said he became a recluse after he was diagnosed with a blood-related illness, but the community garden has helped bring him back to the person he was before.
"The illness turned me into a hermit," he said.
"I became housebound. I wouldn't move very far from the house. I spent a lot of time on the computer. My life was non-existent.
"I was involved with the Bloody Sunday Justice Campaign for many years. I was then involved in the Saville Inquiry. That's gone now. So there was a vacuum there. For a few years, I wasn't able to fill that vacuum.
Green fingers
"The garden has completely transformed my life. I am back to where I was 45 years ago."
John O'Hagan lives just next door to the community garden and he too considers himself an unlikely candidate to have green fingers.
"When the garden started, I had just finished concreting my backyard. I had no idea how to grow anything, not even a flower," he recalls.
"If somebody had told me you'd be out the back growing spuds, herbs and cabbages, I wouldn't have believed them.
"Now I have a front garden that's blooming."
John said he finds gardening very therapeutic.
"If you start working with soil, it seems to calm you down and take you away from your own thoughts. Soil can take you away from your own problems," he added.
BBC Radio Foyle gardener Gareth Austin has been involved in the setting-up and running of the community gardens from the outset.
Hobby
"These are very small projects. The idea is that people can walk to them, come out the back door, walk across, pick a cabbage and cook it for dinner," he said.
"For a lot of people involved, it gives them something to do every day. You're up, you're tending, weeding, feeding and sowing.
"When you plant something, you don't plant for today, you plant for tomorrow. You might sow seeds in March and not see the results until July, or even longer."
For some people, it gives them something to always be planning ahead for.
"It gives them something great to look forward to," he said.
Lee Canning's son Aiden is now 18-months-old and the toddler loves going to the community garden with his dad.
Lee said it's the garden path that he now wants to stay on.
"I found what I was looking for. It's the best thing that happened to me, the best thing that happened to my family. The garden got me off the bad path and brought me onto the good path," he said.