Schoolboy charged with having knife at Derry school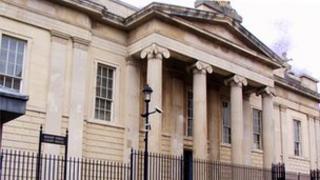 A 13-year-old boy has appeared in court in Londonderry on Tuesday charged with having a knife and attacking another pupil at St Columb's College.
The boy, who cannot be named because of his age, admitted assault occasioning actual bodily harm and a possessing a craft knife.
A youth conference order was imposed on him at the city's Juvenile Court.
A defence solicitor told the court the boy benefited from having two parents who took the matter very seriously.
District Judge Barney McElholm said the schoolboy had shown remorse at the foolishness of his actions.
Mr McElholm said he accepted there was no malicious intent on the part of the youth, describing the incident as foolish and immature.
Mr McElholm also praised the attitude of the other pupil and of his parents who saw it what it was - foolish and boisterous playacting which got out of hand.
Mr McElholm said that he noted that both families were disappointed by the way they believed the incident was sensationalised in the local media.
"It is not the object of this court to criminalise children nor should that be the object of the local media," he said.