12-year-old boy attacked by dog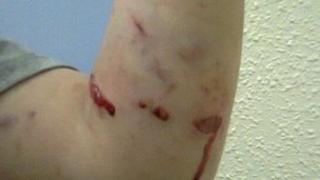 A 12-year-old boy said he feared for his life during an attack by a Japanese hunting dog in Londonderry.
Caoimhin McFadden was playing with friends in Galliagh when the Akita dog turned on him, latched on to his arm and punctured it with his teeth.
It happened on Tuesday night.
Derry City Council said the dog was being held while an investigation was being carried out.
Caoimhin said it was a "very scary."
"It was so sore, my whole arm was all ripped open," he said.
"It was the biggest dog I ever saw. I love dogs but I'm scared now,"
His mother Kelly said she went into shock when she saw her son.
"I was totally devastated when I saw the extent of the damage to his arm," she said.
Derry City Council said it could not comment on the ongoing investigation due to the possibility of legal proceedings.