Londonderry to Coleraine railway line is closed for nine months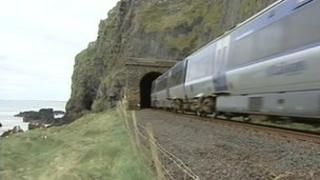 A section of the railway linking the two biggest cities in Northern Ireland - Belfast and Londonderry - has been closed for the next nine months.
The track between Derry and Coleraine is closed for major engineering works and will not reopen until April 2013.
A replacement bus service is in place for those using that part of the line.
Londonderry is the 2013 UK City of Culture and the closure will affect passengers travelling to the city for the first three months of celebrations.
Northern Ireland Railways (NIR) described the engineering work as "essential" and apologised to passengers for any inconvenience caused.
Safety
The work is the first phase of a £75m upgrade to the Derry to Coleraine railway and NIR said it represented "a significant investment in the line for the future".
The project includes a full relay of the track between Coleraine and Castlerock and between Eglinton and Derry.
It will also involve the reconstruction of Pottagh Bridge between Coleraine and Castlerock and major improvements to the Bann Bridge.
NIR said the work would ensure that a high level of safety on the line was maintained and would deliver "smoother, more comfortable and quieter train journeys".
The section of the route between Coleraine and Derry was described by Monty Python star Michael Palin as one of the most beautiful rail journeys in the world.
It featured in his BBC series, Great Railway Journeys.
The sights include seven miles of sandy beach and the longest railway tunnel on the island of Ireland.
Prioritise
It has also been described as a key piece of infrastructure by the chairman of the company set up to manage and deliver Derry's UK City of Culture 2013 programme.
Last year, Martin Bradley, who chairs the Culture Company 2013 Ltd , lobbied Stormont politicians to prioritise the upgrade ahead of the celebrations.
It had been postponed until 2014, but last October the Stormont Executive approved the transfer of £27m from a roads project to allow work to begin on the line this month.