Derry man jailed after his mother flags down police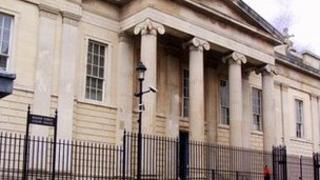 A Londonderry man, whose mother flagged down a police car and asked them to remove him from the house, has been jailed.
Stephen Gillen, 27, of no fixed abode, admitted three charges of assaulting police and one of disorderly behaviour.
Londonderry Magistrates Court was told that police went to the house on Sunday after the defendant's mother flagged them down and said her son was in the house in a highly intoxicated state.
She asked the police to remove him.
The police entered the house and found him upstairs. When they tried to remove him he threw himself down the stairs.
He also started shouting abuse at his brother and struggled with police kicking one and trying to head butt another.
Defence solicitor Paddy MacDermott said that although Gillen didn't have a good record, he had no convictions for assault.
He said his client had been drinking straight vodka and remembered nothing of what had happened.
He said that Gillen's mother usually stood by her son but this time she wouldn't take him back and so he was homeless.
Gillen was jailed for two months and ordered to pay £25.