Minister urged to save Derry city centre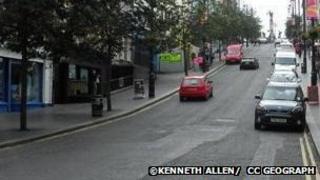 A business leader in Londonderry has called on the Environment Minister to do more to save local shops.
Martin McCrossan, chair of Derry City Centre Traders' Forum, said more than a third of shops had now closed.
Traders have warned of further job losses if something isn't done to rejuvenate the area.
Earlier this year, they called for the city centre to be made a special enterprise zone and proposed a five-point plan to boost investment.
The Environment Minister Alex Attwood is due to make decisions on planning applications for out-of-town shopping developments soon.
Martin McCrossan said the Minister had a duty to tell people now what he was going to do, as jobs could rely on it.
"I can't understand when the Minister actually said he will not be rush," Mr McCrossan said. "Well, excuse me, Minister, you will not be rushed?
"When is the last time you walked around Derry city centre and had a look at the people who are closing their shops?
"He won't be rushed? It's nice for him. He's guaranteed his wages at the end of this month.
"The Minister has told us on a number of occasions, first of all that he would make a decision before the end of June, secondly that he'd make a decision before the end of July, and now he said he's not going to make a decision before the end of August."
Alex Attwood, however, accused retailers in Derry of sending out mixed messages and said there were conflicting views about out-of-town retail developments.
"We're now in a position where we're very close to getting those decisions out, so I'm not going to be rushed to make a decision today when all the evidence hasn't been fully gathered," he said.
"But I am going to rush to make decisions as quickly as possible. I've sat down and met the traders in Derry and they need to stop sending out mixed messages.
"On one hand, they're now criticising that decisions haven't been made; on the other hand, they keep telling me they don't want any out-of-town retail.
"The retailers in Derry need to acknowledge this: if I rush to judgment and get things wrong, that would have consequences for retail in Derry generally and you'd see me in court, being taken there by one or other of the big supermarkets."