Magee lobby group claims it's losing out to Coleraine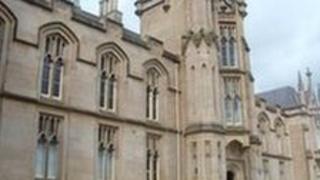 The university lobby group University for Derry, (U4D) has questioned whether student numbers are rising in Coleraine at the expense of the Magee Campus.
U4D has renewed calls for a rise in university places at Magee.
The group also believes the University of Ulster must ensure courses at its Derry campus support the local economy.
The demand for university places in Northern Ireland is at its highest in recent years.
Padraig Canavan from U4D outlined his concerns. He said: "Currently there are two students looking for every place in the system in Northern Ireland and that identifies that there are significant demands in the system for students places in higher education.
"Continuing work we have done in the past, we think that the places available for students in Northern Ireland should be expanded and that expansion should happen in Magee. That would significantly contribute to the improvement and turning around of the economy in Derry in particular.
"In Magee there are over seven times the number of applications than positions that are available so there is considerable interest in taking courses there, so the expansion of Magee should happen on a significant scale, that is the essential point we are making."
But the Pro Vice Chancellor and Provost for Belfast and Jordanstown, Professor Alistair Adair, said the University of Ulster is doing all it can to strengthen the Magee Campus.
Success
He said: "What we have seen is a consolidation of our nursing programmes at Magee, we have moved our nursing from Coleraine to Magee, we have consolidated Irish at Magee and also in the Belfast campus, we are having a growth in computer science and engineering, creative arts and technologies.
"The University of Ulster story at Magee is a massive success story. In 1984 when the University of Ulster was set up there was less than 200 students at Magee, today there is more than four and a half thousand. We are going to grow that number to over 5,000 in the next five years. But this is not only about student numbers. More importantly it is about the quality of those young people, the quality of the student experience and the quality of the graduates."