Man given community service for beating dog with baton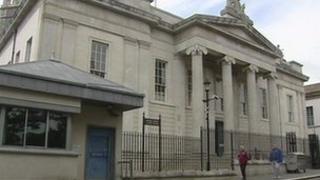 A man has received the maximum sentence for animal cruelty at Londonderry Magistrates Court.
But 32-year-old John Ireland from Ferguson Street escaped prison, because the judge said he had shown full remorse for his actions.
He was sentenced to 240 hours community service.
It also emerged in court that Ireland had 23 previous convictions, some for violent offences.
Ireland admitted a charge of causing unnecessary suffering to the dog at Cornshell Fields in the Shantallow area of the city, on September 1 last year.
The court was told that the defendant was told his eight year old daughter had been attacked and bitten by the dog, a two-year-old jack russell terrier
He then went into the garden where the dog was chained and repeatedly struck the animal with a four-foot-long baton. The dog was so badly injured it had to be humanely destroyed.
Defence Counsel Stephen Chapman said Ireland's inexcusable actions were committed in the heat of the moment after he had initially been told that his daughter had been mauled.
Deputy District Judge Peter King said but for the fact that Ireland had shown full remorse, he would have no difficulty in sending him to jail. Instead he ordered Ireland to serve 240 hours community service - the maximum amount the court could impose.