Illegal worker found at Ballykelly takeaway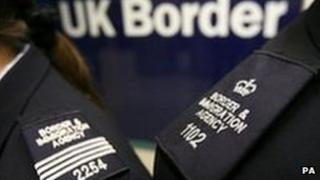 A County Londonderry restaurant faces a potential fine of up to £10,000 after a man was found to be working there illegally.
The UK Border Agency officers visited the Kebab Hut takeaway on Shackleton Drive, Ballykelly, on Thursday.
There they arrested a 30-year-old Pakistani man after checks showed he had overstayed his visa.
The restaurant faces the fine unless it can prove it carried out proper pre-employment checks.
The border agency said the man had been taken to an immigration detention centre in Larne, while steps are taken to remove him from the UK.
Mike Golden of the UK Border Agency said: "Foreign nationals who are in this country illegally should be in no doubt that they will be found, arrested and removed from the UK."