Car destroyed in Derry arson attack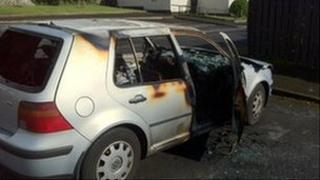 A car has been destroyed in an arson attack in Londonderry.
The silver Volkswagen Golf was set alight at Tutor Court between 21:30 BST on Friday night and 00:30 BST on Saturday morning.
Two other cars parked in the area were also damaged.
Donal Coyle, whose car was destroyed, said residents fear there may be an upsurge in anti-social behaviour in the area.
"The police told us someone broke into the car and stole a few items. They then torched the seats.
"We had the car 13 years. It was almost like part of the family, the car was very well looked after. "We are really sorry to see this happen," he said.
"This was a needless attack. I do not know why anyone would do this."