Shots fired at house in the Crescent area of Coleraine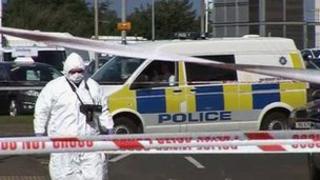 A man and a woman have escaped injury in a gun attack in Coleraine.
Three shots were fired at the house in the the Crescent housing estate.
It happened shortly after 00:30 BST on Monday.
The 18-year-old man and 25-year-old woman were not injured but were left shaken by the incident.
A man was seen running off from the scene across playing fields towards Harpur's Hill.
The police said a motive for the attack has yet to be established.
Coleraine DUP Alderman James McClure said residents are shocked and angry.
"Everyone I have spoken to has not only expressed their shock but also anger that someone would use a firearm against anyone.
"This attack was obviously carefully planned and could have resulted in a fatality.
"This is a peaceful part of town and while we do not know the circumstances of the incident, it is wrong that violence should be used against anyone,"he said.