Rail line re-opens after car crashes through barrier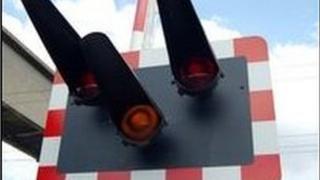 The railway line between Coleraine and Portrush has re-opened following a car crash at a level crossing.
It is understood a car crashed through the barrier at Artillery Road shortly after 07:00 BST on Tuesday.
The incident may have been caught by CCTV cameras.
Less than 24 hours earlier, Translink highlighted a major initiative to warn people of the dangers of railway level crossings.
Translink's Head of Rail Operations, Ian Campbell, says an accident with a train was narrowly avoided: "The vehicle which crashed through the barriers, took off one of the crossing-barrier bars. The train which was approaching the crossing and which was bound for Belfast, fortunately, was able to be stopped before reaching the level crossing itself."
Disruption
He added: "I am pleased to report that no-one was injured in this incident. The train was then moved back to University Station and the passengers who were on the train were conveyed onward by bus."
But Mr Campbell said the incident did lead to some disruption for rail users: "We did however have to close the railway line for two hours this morning to undertake essential repair work to the crossing itself."
Mr Campbell added that Translink was not aware if this morning's crash was an accident or an act of sabotage, but a full investigation has been launched into the accident between Translink and the PSNI in Coleraine.