Judge refuses to relax bail so accused can attend the gym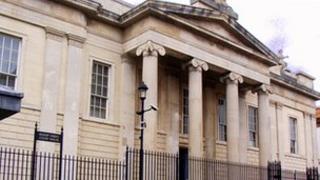 A district judge has refused to relax bail conditions imposed on a 22-year-old man who is charged with causing the road traffic death of a 19-year-old woman last year.
Kevin Michael Patrick Brolly from Rannyglass in Dungiven appeared at a preliminary inquiry at Londonderry Magistrates Court.
He is charged with causing the death of Claire Kelly by driving without due care and attention and with excess alcohol in his breath at the Glenshane Road on 11 December 2011.
Mr Brolly is further charged with causing the death of Claire Kelly while driving without insurance and with dangerous driving.
District Judge Barney McElholm refused a defence application to relax curfew conditions imposed on the defendant to enable him to attend a gym.
A police officer told the district judge that he believed the defendant would re-offend if the conditions were relaxed.
The defendant was released on the same bail conditions to appear before the Crown Court for arraignment on 16 October.