Attwood will listen to developers ahead of Derry retail plans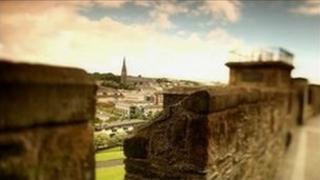 Environment minister Alex Attwood says he'll listen to prospective developers before he makes a final decision on proposed retail developments in Derry.
Nine major projects are currently being considered by planners.
A new study has analysed current shopping patterns and assessed the retail demand and potential in the city.
The minister also announced funding for maintenance of the Derry city walls.
Mr Attwood said; "Making an assessment of nine major development proposals in Derry is a complex matter and I felt it was important to commission this study and get the most up to date insight about retailing in the north west before announcing decisions.
"Derry city is the main shopping destination in the north west and decisions on the current retail applications will define the future of Derry's retail offering for many years to come. These are not decisions that can be taken lightly and this study will greatly assist me in making the right decisions for Derry.
"The next step is to give the various prospective developers the opportunity to comment on the study and for my department to consider those comments before final decisions are taken. This may take a little more time but it is the right way to proceed.
"My aim as environment minister is to ensure that Derry city centre is protected, whilst growing jobs and the local economy.
"I understand that retailers in the city face significant challenges in the current economic climate and therefore in deciding these largely out-of-town applications, I will want to take full account of the overall impact on the city centre.
"I want to re-emphasise my own personal commitment to the regeneration of Derry city centre as the economic heart of the north west."
During his visit the minister also announced funding of up to £30 000 towards the maintenance of the feature lighting of Derry city walls.
The minister said: "The city walls are key to tourism in the city centre. I am pleased that my department can provide some assistance by providing lighting through walkways that will assist with public safety whilst subtly enhancing this important monument."