Red Arrows Portrush display hit by technical faults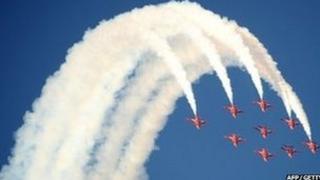 Two members of the Red Arrows air display team have had to pull out of the Northern Ireland International Air Show at Portrush.
Seven of the Hawk-type jets were due to take part in what was to be the climax of the first day of the show on Saturday.
One aircraft developed a technical fault and was unable to take part.
As the remaining six pilots began their display, another aircraft suffered a bird strike and was forced to land.
Only two of the aircraft stayed to perform a curtailed aerial display.
The Red Arrows have suffered a number of incidents in recent years.
Last year two pilots died in separate incidents involving their Hawk jets.