RAAD mistaken identity victim is refused compensation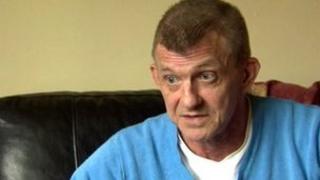 A Londonderry man who was shot by the vigilante group Republic Action Against Drugs, in what is thought to be a case of mistaken identity, has been refused compensation for his injuries.
Paul Ward, 45, was shot twice in the stomach and still has a bullet lodged in his back since the shooting three years ago.
Mr Ward claims the Compensation Agency has said he will not be compensated because he did not co-operate with the police investigation into the shooting.
His case has been taken up by SDLP MLA Pat Ramsey who said he intends to raise the matter with the Compensation Agency and the police
Mr Ward said he is devastated, and getting the letter from the Compensation Agency was like being shot all over again.
Mr Ward, who has agreed to be identified for the first time, said the agency's claim is ridiculous.
"They claim that I didn't give enough evidence to the police. I can't fathom that, I mentioned a name to the PSNI, twice actually, and do not know how the Compensation Agency has the audacity to say I didn't co-operate with the PSNI. I don't know where they are coming from.
Danger
"I provided one name who was there that night. One of the gunmen shouted his name and told him to come on.
"I could be putting myself in danger for doing this but it has to come out."
Mr Ward said he does not know what the future holds for him.
"It took the wind out of me, I don't know where to go from here I don't know where to turn.
"I'm 45 years old and I have to start a new career. They have left me in a hole without a shovel.
"Who is going to employ me, with a damaged leg, a blind left eye and a bullet in my spine?" he said.
The Compensation Agency has refused to respond to Mr Ward's claims, saying they do not comment on individual cases