Londonderry police attacked by man they were helping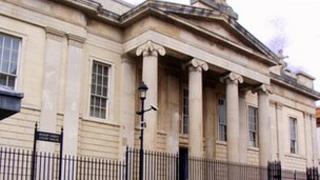 Londonderry Magistrates Court has heard that the police had to strike a 20-year-old man on the hand with a baton as he continued to cut himself with a piece of glass.
Patrick Stokes from Moss Park pleaded guilty to charges of disorderly behaviour and resisting police.
He was released on police bail and will be sentenced next month
The incident took place at the junction of William Street and Little James Street on August 18th.
The court was told that police were called to the scene following reports of a man cutting himself with a knife.
When the police arrived, the defendant started to cut himself on the throat and refused several police requests to stop before he was struck with a baton.
An ambulance crew was called to the scene but the defendant refused medical treatment.
The crew told police that the cuts on the defendant's throat and on his bloodied hand were superficial.
The defendant then become aggressive towards the police and was arrested after restraints were put on his legs.