Council invite to armed forces group wrong - SF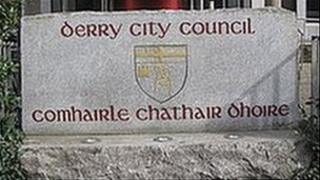 Sinn Fein has said an invitation from Derry City Council to a group representing members of the armed forces is wrong and insensitive.
The Veterans Advisory and Pensions Committee supports about 900,000 serving and former members of the forces.
It is to address the council on Thursday to ask it to appoint an armed forces advocate.
Sinn Fein councillor Barney O'Hagan said the invitation was inappropriate.
"Given that the British armed forces were protagonists in the conflict in Ireland, I don't feel it is appropriate for groups like this to be invited to address councils, particularly in cities like Derry.
"It is totally wrong and ill-thought out.
"Derry City Council has more important things to be getting on with."
The committe's Northern Ireland chairman, John Davies, said he respected Mr O'Hagan's views, but those who want to hear their presentation should be able to hear it.
"We want to bring to the attention of veterans living in Derry the services that are available to them.
"There are veterans right across the community, and we really need to get our message to everyone.
"At the end of the day our presentation will be to the benefit of those who have served," he said.
'Access'
The DUP's security spokesperson, Gregory Campbell, said people in Derry were entitled to receive advice and support from the committee.
"This is 2012, I would have thought that every public representative would have wanted was to make sure that every individual who needs assistance should be able to access it.
"There are many people in Londonderry who are British, and there are many who don't regard themselves as British, but all of them need advice and assistance.
"Nobody should be precluded from that because of their identity."