More Derry shooting victims are denied compensation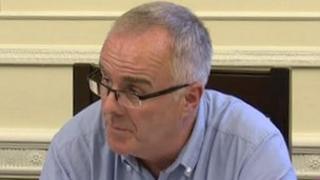 A Sinn Fein MLA said he is aware of at least more shooting victims in Londonderry who have been told they do not qualify for compensation.
Earlier this week Paul Ward was told he was not entitled to a pay out because he did not co-operate with the police investigation.
Mr Ward denies this and it is understood the police are supporting his claim.
Sinn Fein's Raymond McCartney said a discussion is needed on these cases.
"I have spoken to people who have told me that the reasons why they have been refused compensation does not bear up to scrutiny.
"I have a concern that perhaps the Compensation Agency are taking the approach of refusing the compensation and then allow people to try and challenge it in other ways.
"As one member of the legal profession told me if the claims are less than £1,000 then people may just shrug their shoulders and say i'm not going to go through the whole process in case there is a cost incurred at the end of it and that outweighs the compensation they get," he said.
Mr McCartney said he found similarities between Paul Ward's case and others he is dealing with.
"I have absolutely no doubt that when these cases are challenged legally then the Compensation Agency will pay out."