Elderly Londonderry sisters threatened at knife point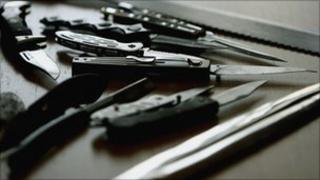 A Londonderry woman who is almost 80-years-old says the men who ransacked her home with knives are "scum".
The woman, who wants to remain anonymous, shares a house with her older sister in Edenmount Park.
Her sister requires 24 hour care after suffering a stroke five years ago. Both are still terrified after the burglary in the early hours of Friday morning.
The woman said she feared for her life during the robbery.
"I opened the door and the two of them just banged in. I asked them what they wanted and they told me they would decide what they wanted.
"My sister smiled at them because she smiles at everybody since she had a stroke.
"They asked me if I had any money and I said I didn't and they said they could take what they wanted and I said they couldn't."
Pleas
The woman said they ignored her pleas to be left alone.
"They said they would leave when they got what they wanted and when I told them I didn't have anything they started to look around the house.
"They pointed the knives at my face and said I had better answer the questions.
"I asked them to put the knives away and they stabbed them into the door, slashed the wallpaper and slashed the chair where my sister was sitting."
The men also broke the television set and cut the phone line so the women couldn't contact the police.