Derry mother spat at outside daughter's primary school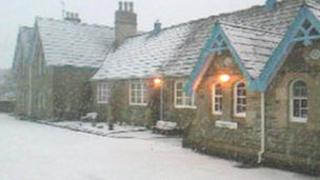 A Londonderry woman has spoken about how an angry motorist spat in her face outside her daughter's school in a fit of road rage.
The incident happened outside Culmore Primary School on Tuesday afternoon.
The victim said he made obscene gestures and spat on her in front of her two-year-old son.
She says he shouted obscenities about parents on the school run causing traffic disruption, before spitting into her face.
"I was sitting in the car with my two-year-old and I looked in my rear view mirror and I saw a car approach me from behind quite quickly and it slowed down.
"I saw from my mirror that this gentleman and his girlfriend were quite irate.
"I gestured to them 'it's a school' and at that he gave me the finger and got out of his car.
"He started to say you know you are parked on a main road and I explained that I was there to collect my daughter from school.
"He said I wasn't allowed to park there and I said I had been doing this journey for six years and there is no parking available around the school and no markings on the road to suggest that I couldn't.
Aggressive
"At that he became verbally quite aggressive. It was quite frightening. He was using profanities and his language towards me, everything about him was very frightening.
"He told me I should have my four-way flashers on but when I told him I did he was really annoyed that he was wrong.
"Then he just looked at me, he cursed at me and leaned toward.
"I thought he was going to hit me so I turned away and he actually spat on me."
She said it was a terrifying experience.
"I was sitting waiting for my young daughter waiting to come out of school.
"I was alone, there was no other cars parked up except mine and as soon as this man had done it he got into his own car and drove off."