14 management positions at risk at Derry City Council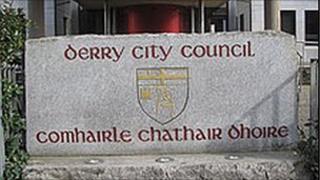 The head of Derry City Council has said 14 management posts are under threat as part of a management reorganisation.
Chief Executive Sharon O'Connor said the plan was about improving the structure.
The changes will take place as the city prepares for major initiatives including UK City of Culture in 2013.
Ms O'Connor said the changes had no consequences for the remainder of the organisation.
She added that those affected would be offered other positions within Derry City Council.
"This is about having the right people in the right jobs and delivering the quality of service the public will expect.
"This is not about creating redundancies; this is about creating a management structure that is fit for purpose.
Risk
"So there are no posts to go at this stage. There are clearly a number of posts at risk because we are developing a new structure.
"Those people affected will have the opportunity to go back to their substantive posts if they were acting up or to apply for the new posts that will be created as part of this process.
"I have to stress that this is not something that is going to affect anyone by Monday of next week or even within the next couple of months.
"It is about identifying new posts that those people who are at risk can apply for and if they are unsuccessful in achieving appointment to those posts they can be considered for suitable alternatives within the organisation.
"And it's only as a result of having exhausted all of those processes that we'll be talking about any redundancy arrangements, at this point there are no redundancies."