Man pleads guilty to causing woman's death in car crash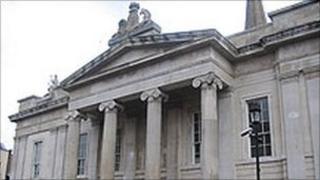 A 22 year-old-man has pleaded guilty at Londonderry Crown Court to causing the death of a 20-year-old woman in a road traffic accident last year.
Kevin Michael Patrick Brolly from Rannyglass in Dungiven pleaded guilty to causing the death of Claire Kelly who was a rear seat passenger in his car.
Brolly pleaded guilty to dangerous driving, careless driving and by driving with excess alcohol between Feeny and Claudy on December 11 2011.
He will sentenced on October 24.
Judge Piers Grant ordered the preparation of pre-sentence and victim impact reports for that date and he released Brolly on continuing bail.
As part of his bail conditions Brolly must not travel in the front seat of any vehicle and he is to be electronically tagged.
He was also ordered to reside at his home address in Dungiven