Thousands greet Donegal All-Ireland heroes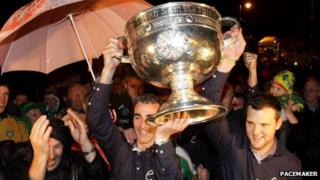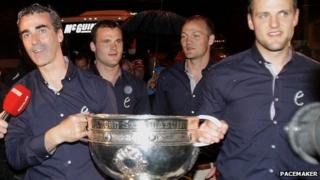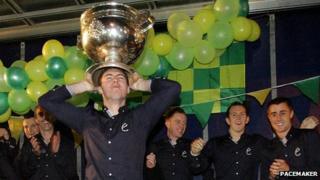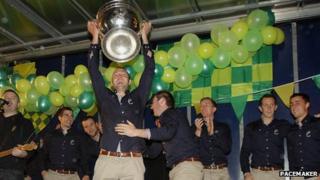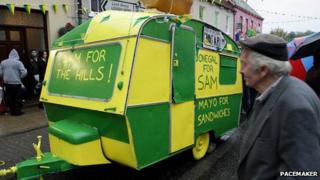 Thousands of fans turned up in Donegal Town on Monday night to welcome home the All-Ireland winning gaelic football team.
Jim McGuinness's men beat Mayo 2-11 to 13 points at Croke Park on Sunday.
It's the first time since 1992 that Donegal has won the Sam Maguire Cup and the rain did not stop the fans turning out to greet them.
Among the fans waiting to see the squad on Monday night was singer Daniel O'Donnell.
"I just feel so privileged to be in Donegal tonight.
"I thought I was going to be in America but circumstances led me to be here, there were flight delays and everything which meant I couldn't do what I wanted to do and then I had a couple of days when I could cancel the flight.
"In 1992 I didn't get to come home to see Sam coming to Donegal because I had other commitments, so it is a dream to be here tonight."
The Mayor of Donegal, Councillor Frank McBrearty, was also there.
"The team is so professional, they don't get paid any money, they wear the jersey with pride and they showed the people of Donegal what they were made of," he said.
But the loudest cheer of the night was reserved for team manager Jim McGuinness, who paid tribute to the fans.
"It was a very emotional day on Sunday and it is fantastic to be working with these guys.
"The support the team has been given is staggering, the way the fans have got behind the team has been staggering.
"We are just so happy to take Sam Maguire back to the county for the first time in 20 years and hopefully it won't be 20 years before it happens again."