Strabane civil service jobs relocated to Londonderry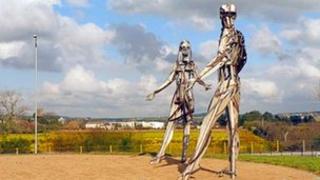 Twenty-five civil servants are being moved from Strabane to Londonderry.
It will mean 17 staff will be left at the Social Security Agency office in Urney Road.
The public service union, NIPSA, claims the names of those who have to move may be drawn out of a hat, unless they have special circumstances.
Noel McGinley from the Union said morale at the Strabane office is at an all time low.
"This is a culmination of a series of events over the years where we feel Strabane has been systematically run down in relation to civil service jobs.
"We all know the private sector is difficult to attract jobs to, but when the actual public sector, somewhere you'd like to think local politicians has some control, loses out, it appears Strabane has lost out yet again."
Mr McGinley said the process of choosing the staff had already begun and warned that action would have to be taken if the number of people willing to move is not reached.
"It's clearly a simple case of names being drawn out of a hat.
"When all is said and done it is considered to be the fairest way because we don't have a system anymore that you may have had years ago with seniority, last-in-first-out. Now everyone has the same chance.
"The Union has far as I know have accepted it.
"They don't like it but as a process of sorting out who goes where, it is probably the best of a bad lot. I imagine there will be some anger from the workers, but at the end of the day it is going to happen."
Mr McGinley said the introduction of Universal Credit to the benefits system next year makes the Strabane office vulnerable to closure and there may be greater job security in the larger Foyle office.
"If the Foyle office is maybe scaled up to 200 or 250 staff there is probably more chance of surviving, you couldn't deny that.