Family shocked as calves are mauled to death in Donegal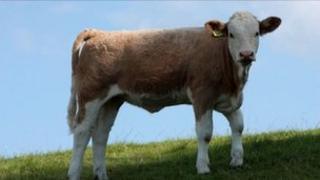 Two calves have been mauled to death on a farm in Donegal.
The calves' carcasses were found eaten and with ribs broken, on the farm outside Convoy, near Raphoe, on Thursday. It is not known how the animals died.
The farmer's wife Nicola Gregg said it was a very upsetting experience to think about what the calves went through before they died.
She said they would be taking steps to protect other livestock on their farm.
"My husband heard the calves roaring and when he went down to count them two were missing. When he investigated he saw they had basically been eaten alive.
"Their heads were fine it was just the stomach area, and the back and tail. They demolished more or less.
"Their ribs were broken which made us think it must have been something really strong to have done that.
"My husband said he had never seen anything like that in his life. It's sad and it is worrying."