30 jobs go in Derry and Coleraine as JJB closes stores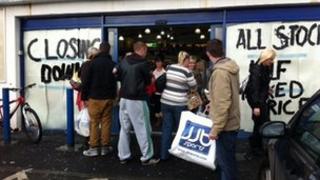 30 jobs have been lost in the north west after the closure of JJB Sports stores in Londonderry and Coleraine.
More than 150 jobs are going in Northern Ireland as the retailer closes ten stores.
Only three stores, including the branch on the Strand Road in Derry, are staying open after being sold to the Sports Direct company.
Twenty-eight jobs have been saved at the Strand Road branch.
University of Ulster retail expert Donald McFetridge said the closure had been on the cards for some time.
"JJB really had lost its vision," he said.
"There is so much competition out there on the high street at the moment, including from Sports Direct who have taken over 20 of the stores, and from JD Sports.
"There was no real point of distinction between JJB and the competition in what is a saturated market."
Mr McFetridge said the company had overstretched itself.
"In some instances they had two stores in one town within a very short distance of each other," he said.
"In effect they were cannibalising their own market. There was no need for the number of stores they had."