Culture company budget taken over by Derry City Council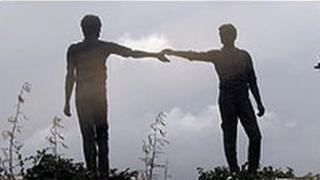 The body charged with delivering Londonderry's UK City of Culture celebrations in 2013, has been ordered to hand over some of its multi-million pound budget to Derry City Council.
Council Chief Executive Sharon O'Connor said the company's marketing function is "not performing."
She ordered it to hand over those responsibilities to the council and to move staff to council offices.
The move will not include the Director of Communications, Garbhan Downey.
Mr Downey said he is "devastated" by the move and has now called in lawyers to clarify his position.
"I can confirm that my staff are being ordered to report to council offices on the Strand Road and the CEO of Culture Company has been advised that this transfer doesn't include me.
"This is happening because we are refusing to allow council to spend our budget on non-city of culture projects.
Contract
"The reason I am speaking publicly now is that despite Council statements, I have a genuine fear that our budget will not be spent in areas for which they were intended by DCAL, (Department of Culture Arts and Leisure), and that this would be a specific break of our contract with DCAL.
"Council have repeatedly told us that they have no money for marketing the city next year, so now they are taking ours."
But the Chief Executive of Derry City Council Sharon O'Connor has defended the move.
"The plan is that we maximise our resources and that is where all this has stemmed from. It is unfortunate that it has happened in this way.
"It is very important to point out that I am personally responsible with making sure that the £12.6 million DCAL has provided for the City of Culture project is delivered per the letter of offer they provided to Derry City Council.
"We are the signatories of that contract. So to suggest that finances would be used in way other than those anticipated by DCAL for the benefit of City of Culture and for the benefit of the city is factually incorrect."
Next Monday the Culture Company is due to launch its full marketing strategy to the Culture Board for the 2013 year of culture, which included 148 events.
Sharon O'Connor rejected claims that the timing of changes to the Culture Company undermined that.
"The very fact that this has happened in the way that is has happened is as much a surprise to me as everyone else.
"The exploitation of opportunities is a plan that needs to be supported by a broader group of people than three of four people within City of Culture."
Mr Downey also took issue with claims by Derry City Council that the culture company's marketing arm was not performing.
"I reject entirely Council's attempted inference that this is somehow a performance related issue," he said.
Mr Downey said his solicitor has a copy of the council letter and is currently seeking clarification of the legal status of the transfer that the council is trying to implement.