Two cars stolen from outside Londonderry family home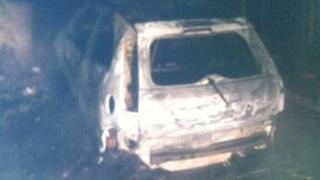 Two cars have been stolen from outside a family home in Derry on Sunday morning.
A man with a black hooded top was disturbed as he stole car keys from the hallway of a house in Tara Park.
It was only when the alarm was raised that the family realised their other car had also been taken.
One of the cars was found crashed on the Skeoge Road in the city. The other was burnt out nearby.
The car owner, Jim Bradley, said his family were at home at the time.
"My wife heard someone trying to open our car and she thought it was me.
"When she realised it wasn't she went out to the car and saw a man with a black hooded top getting into the car.
"She opened the passenger door and told him to get out but he just reversed the car and away he went.
Scream
"She started to scream and I came running down the stairs and could see the car at the bottom of the street.
"I went to get the keys from my car and realised that my car had been taken as well.
"We called the police and found both cars had been destroyed."
In a separate incident a car was stolen from outside a house at Whitehouse Park.
Car keys and a credit card was taken during the robbery. There was an attempt to use the credit card at a local store.
The owners of the car say their 13 year old daughter has been left terrified by the ordeal.