Mark Haddock UVF supergrass trial cost taxpayers £11.5m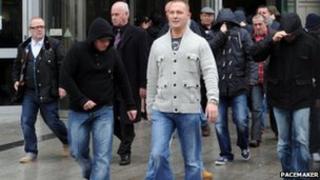 A UVF supergrass trial in Belfast that ended earlier this year cost the taxpayer £11.5m, the BBC can reveal.
More than half the money was spent by the police, the court and the prison service. The rest was spent on legal aid.
The trial lasted for 72 days and saw 12 of the 13 men acquitted of all charges after one of the longest trials in Northern Ireland's legal history.
Among the men acquitted was the alleged former UVF leader Mark Haddock.
The acquittals came after the judge dismissed the evidence of the two main prosecution witnesses, Robert and Ian Stewart.
Some £5.8m was spent on the case by police, the court and prison service.
BBC Radio Foyle has learned that a further £5.8m was spent on legal aid for the defendants.
Thirteen senior barristers shared £2.2m while 17 people working as solicitor advocate or junior counsel were paid a total of £1.6m. Nine different firms of solicitors received a total of £1.7m.
Stormont's Justice Committee will consider the issue on Thursday.
Committee member Raymond McCartney said the case put a question mark over the future of supergrass trials.
"The history of supergrass trials is that the overwhelming majority, if not all of them, have always put in the witness box people of poor credibility," he said.
"They are left open to cross-examination and the judge has come to the conclusion that they are poor witnesses.
"Any person involved in the investigation must satisfy themselves that the person they are putting into the witness box is a witness of truth."
Mark Haddock and the 12 other defendants faced a total 97 charges.
These included murder, kidnapping, grievous bodily harm and membership of the outlawed Ulster Volunteer Force.
One of the murder charges involved the killing of the loyalist Ulster Defence Association leader, Tommy English, in October 2000.
Mr English was shot dead during a violent feud between the two loyalist organisations.
Mr Haddock himself survived a gun attack in 2006.