Police report 20% rise in Londonderry burglaries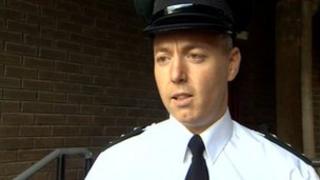 There's been a sharp rise in burglaries in the Londonderry area.
Over the past six months break-ins have increased by nearly 20 per cent.
The police say in half of those robberies, the burglar got into the house through an unlocked door or window.
PSNI Chief Inspector Jon Burrows urged householders to follow basic crime prevention advice to secure their homes.
"As part of Operation Safer Homes, there will be increased police patrols, leaflet drops and an advertising campaign to remind local residents to ensure their homes are secure at all times.
"We have seen an increase in walk-in burglaries rather than break-ins and this is down to people not locking their doors or windows.
"We are continually working to raise awareness of burglaries and while we conduct patrols, respond to reports of suspicious activity and deliver crime prevention.
"Everyone can play their part in taking proper precautions to protect their home and property.
"Do not make your home an easy target for criminals.
"I would also ask anyone who notices suspicious activity in their neighbourhood to call us immediately. This could prevent someone from becoming a victim of crime."