Londonderry crash victim said he feared for his life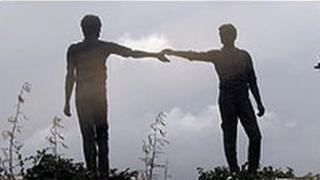 A Derry taxi driver says he feared for his life after his cab was rammed by a stolen car at the weekend.
It happened on the Ballyarnett Road early on Saturday morning.
Alfie Johnstone suffered head and arm injuries and had to be cut free from his car.
Three men were later arrested. Mr Johnstone was one of the 12 taxi drivers who helped deliver the city of culture programme last week.
"There was just an explosion of noise on my left hand side and the car rolled a few times.
"I think I hit my head then.
"I was knocked out and I can't really remember much after that.
"They hit the back corner of the car where the wheel is and knocked the axel about 50 yards down the road.
"If they had hit me on the front or the middle of the car it would have been a lot more serious.
"I don't know what these guys are thinking about.
"This is a great city of ours.
"They are out stealing cars and ruining people's lives. Why can't they just be normal."
Mr Johnstone's taxi was one of the fleet employed to deliver the programme for the City of Culture celebrations last week.
The man arrested in Derry in connection with the crash has been released on bail pending further inquiries.