Drinks licence granted for Londonderry Christmas market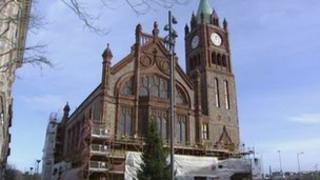 A continental-style Christmas market in Londonderry will go ahead with a bar, despite objections from local publicans.
Five publicans had objected to the application by Meenan Square Limited for a licence to run the bar in Guildhall Square.
They argued that it would damage their trade.
On Tuesday District Judge Barney McElholm granted the licence after both sides reached a compromise.
It came after five hours of negotiations between solicitors representing the two parties.
The dispute began in September when Derry City Council revealed its plans to stage a continental Christmas market in Guildhall Square from 1 December for three weeks.
There have been markets there before, but they have not served alcohol.
On Friday an application for an occasional licence was lodged by Meenan Square Limited - the owners of the Bogside Inn in Derry.
The five local publicans had originally objected on the grounds that Guildhall Square is an alcohol free zone.
The solicitor representing Meenan Square Limited said the event would be called off if the application for the occasional licence was refused.
He said the application was supported by Derry City Council and that no objections had been received from the police.
That was adjourned until Tuesday afternoon to give both sides time to reach an agreement.
This was reached to enable the occasional licence to be granted by Judge McElholm.
When Mr McElholm was told that an agreement had been reached between the parties he said "Let joy be unconfined."