Derry fan banned from grounds for five years wins appeal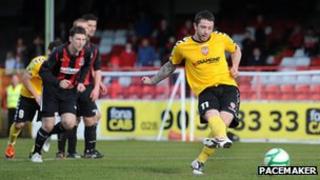 A Londonderry man who took a flare into a cup final and was subsequently banned by the courts from football matches in Northern Ireland for five years has had the ban overturned on appeal.
The order imposed on 36-year-old William Diver, from Iveroe Gardens in Derry, was believed to have been the first of its kind since new powers were given to judges.
Mr Diver had also been given a suspended jail term.
He will now have to pay a £100 fine.
Mr Diver was arrested at the Setanta Cup Final between Derry City and Crusaders at t he Oval in Belfast.
The offence he was charged with under the Justice Act (Northern Ireland) 2011 related to having a thermobaric canister, which produces a bright flash when lit, at a regulated football match.
Belfast Magistrates Court heard that he was searched and arrested at the ground before the device could be let off.
Mr Diver said the case should never have got to court in the first place.
"The judge said the five year ban should never have been introduced because of the legalisation.
"The suspended sentence was also lifted and I got fined £100, so it went from one extreme to the other.
"I feel a little bit embarrassed because it was splashed all over the papers.
"I was hoping to go to the cup final in Dublin but I would never have got on any bus.
"It was harsh but I am pleased with the outcome.
"I have learned my lesson I won't be carrying any flares or fireworks to matches anymore."