Derry City faithful turn out for cup winning homecoming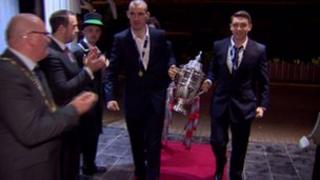 More than 1,000 people turned out in Guildhall Square on Monday night welcome home Derry City's FAI Cup winning heroes.
Derry won the cup on Sunday with a thrilling 3-2 extra-time victory over St Patrick's Athletic at the Aviva Stadium in Dublin.
There were jubilant scenes among the fans who braved the cold and the rain.
City manager, Declan Devine, in his first season in charge, dedicated the victory to the club's supporters.
"It's their club. It's not Declan Devine's or (Chairman) Phillip O'Doherty's, or (Captain), Kevin Deery's.
"It's the people of this city's club and we will do everything in our power to make sure it stays that way.
"It is absolutely one of the proudest moments of my life, to walk into a packed Guildhall Square.
"I have been here many times in the past to see huge events in the Derry calendar.
"And to come here with a bunch of local lads who have been very successful in a major cup competition in Dublin is fantastic."
Devine also paid tribute to the players.
"They have hunger and determination and a desire to succeed and a pride in our city dictates what out team is about.
"Having so many young local players, from the Bogside, Creggan, the Brandywell, the Waterside areas, and the affinity they have for the football club, there is no way we were losing that match on Sunday."
Derry took over 6,000 supporters to Dublin for Sunday's decider, which Declan Devine described as an amazing effort.
"The current climate in terms of the economy is very difficult for a lot of people.
"But to see droves of people heading to Dublin again is fantastic.
"To see so many Derry City fans there was all the motivation we needed and we are very proud and thankful for the support we received."