Rasharkin cattle dealer jailed at Derry court for bull cruelty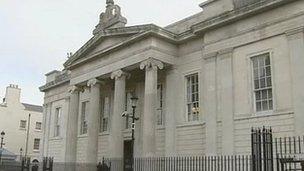 A County Antrim cattle dealer who pleaded guilty to causing unnecessary suffering to a bull has been jailed for two months and fined £5,000.
Gregory Boyd, 44, of Main Street in Rasharkin, admitted the offence at Londonderry Magistrates Court.
The bull was being transported for slaughter to Foyle Meats in Derry when the authorities were alerted.
Mr Boyd had two previous convictions under animal welfare legislation.
In September of this year, his father, Samuel Boyd, also from Main Street in Rasharkin, was fined £750 for a related offence.
A prosecution solicitor told District Judge Barney McElholm that when the bull was presented for slaughter at Foyle Meats, staff reported to a vet that the animal was lying on its side inside a trailer.
The vet examined the bull and found numerous injuries and coldsores as well as a wound wide and deep enough to put a small fist into.
Efforts to get the bull back onto its feet were unsuccessful and the animal had to be humanely destroyed by the vet and removed from the food chain.
Defence solicitor John Fahy said because of the difficulties in the cattle trade, Boyd had taken a chance.
He said the bull was bought by Boyd's father, Samuel, and he was doing his father a favour by transporting it to Foyle Meats.
Mr Fahy said during the journey to Foyle Meats, a vehicle pulled out in front of Boyd, forcing him to brake sharply which caused the bull to fall on its side.
However, a district judge said he did not believe a single word of Boyd's excuse.
He said Boyd had ignored two requests to be interviewed about the incident and failed to inform the probation service of his change of address.
He jailed Boyd for two months, fined him £5,000 and then fixed bail to appeal the sentence at £5,000.