Londonderry man jailed for six years for throwing petrol bombs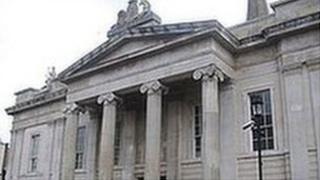 A 24-year-old Londonderry man has been jailed for six years for throwing petrol bombs at police and the Apprentice Boys Memorial Hall during a parade in August 2011.
Caolan Kavanagh, whose address was given as Maghaberry prison, admitted 18 public order offences.
It emerged in court on Monday the defendant had sixteen previous convictions.
When he is released from jail, he will be on licence for three years.
Kavanagh's previous convictions include setting fire to a door at the Apprentice Boys Memorial Hall when three hundred people were inside the building attending a charity event.
Judge Piers Grant said it was only by good fortune that no-one was injured as a result of Kavanagh's offending.
"You attacked the police and certain members of the public because of your sectarian hostility towards them. You engaged in sectarian violence," the judge said.
Judge Grant said Kavanagh had been assessed as dangerous in a pre-sentence report and a probation report stated he "presents a high risk of re-offending and a significant risk of causing serious harm to the public.
"You have a manifest hostility to people who attend these parades and your sectarianism is evident to the extent that you intended to hurt people because you disagree with them."