Londonderry road is blocked by union flag protesters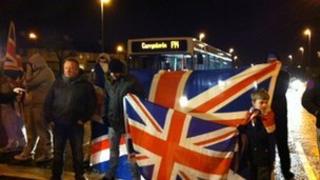 Up to 80 protesters blocked the main Londonderry to Dungiven Road on Tuesday night.
They said the protest was in solidarity with loyalists in Belfast who are objecting to the removal of the union flag from City Hall. The demonstration lasted around 20 minutes.
There was another demonstration in Coleraine.
One of those demonstrating in Derry said the Belfast council vote had angered Protestants everywhere.
"Feelings are running very high at the moment," he said.
"We feel it is another part of our British history being taken away.
"This is a peaceful white line protest and hopefully everything will stay calm and peaceful.
"I would just like to see all Britishness being left and us left to live in peace."