City of Culture art installation finally gets switch on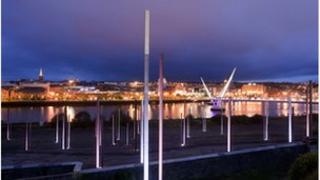 Mute Meadow, the art installation on the banks of the Foyle, was not just mute for more than a year, it was also rather dark.
The coloured lights that were supposed to illuminate Ireland's largest arts project were shorting out.
However, for the past few weeks it has been lit up after engineers fixed the fault and ran a reduced light display.
Caoimhin Corrigan from ILEX, who are responsible for it, says the full benefit will soon be visible.
"What we have done is to test the resilience of the power system which was a problem for us for a while.
"We know now in terms of the power element, it is very solid and is back up and running at a good time of the year with clear skies and dark nights which is when it looks at its best."
Mr Corrigan said they have now managed to isolate the problem.
"It just seemed to be switching itself off, shutting down.
"Some of the units were changed and we enhanced simple things, basic wiring.
"It has stopped going down us and you will notice more dynamism, more shifting of patterns, more morphing of one colour to another."