Droppin' Well bombing: Hundreds attend anniversary service
By Elaine McGee
BBC News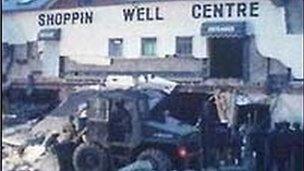 Seventeen people were killed in the bombing on 6 December 1982.
The INLA later claimed responsibility for the attack that killed six civilians and 11 soldiers.
The service was organised by Cheshire Regiment Association - the regiment was serving in Ballykelly at the time of the atrocity.
Amongst those at the service at Tamlaghtfinlagan Church in Ballykelly on Sunday was Colonel Bob Stewart, who was then commander of the Cheshire Regiment.
He said what happened was the most traumatic event of his life.
"I lost six soldiers, 30 were wounded. It means a lot to me to come back. I'm here for the people who were wounded and killed in the bomb, and they were from all sides of the community," he said.
Also at the service was North Antrim MP Ian Paisley Jr, who was representing the NI select committee, and the East Londonderry DUP MP, Gregory Campbell.
They joined the families of those killed and wounded.
A number of the relatives of the soldiers that were killed had travelled from England to be there.
Addressing the congregation, the Church of Ireland Bishop of Derry and Raphoe, Ken Good, said the 17 killed had their lives come to a "violent, shocking and untimely end".
"The 6th of December 1982 was a very dark night in this community," he said.
After the service, a lone piper played as representatives of the Cheshire Regiment and the families of the dead laid wreaths and flowers at the memorial, which is in a garden beside the church.
The regiment also planted an oak tree in the garden, the families of those killed were the first to turn the soil.
The oak leaf and acorn is one of the regiment's emblems.
Lcpl Steven Bagshaw had been in Northern Ireland for just 10 months when he died in the bombing.
His sister Mary and his mother attended the service.
Mary said it had been a very emotional day.
"Steven liked it here. He could have been posted in Northern Ireland or the Falklands and he was posted here. I remember so clearly finding out about what happened. It's still very raw," she said.
"Steven was charming and good fun to be with. It helps me to come to the service. We've got our own grief but we realise that there's other people going through it and it's nice to be here together."
Virtue Dixon's daughter Ruth, who had a five-year-old son, was celebrating her 24th birthday, when she was killed.
"It was a dreadful night. Like a nightmare" Mrs Dixon recalled.
"Ruth was the liveliest person I ever met. And she enjoyed her short life.
"It doesn't feel like 30 years ago since it happened. It feels like three years. I can still hardly believe it. It's just not the same without her."