Londonderry court: Three men appear on rocket charges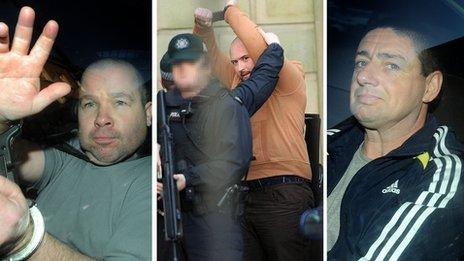 Three alleged members of the new IRA have appeared at Londonderry Magistrates Court charged in connection with the discovery of a rocket in the city last week.
They are Jason Lee Ceulman, 42, from Lecky Road, Neil Christopher Hegarty, 47, from Sackville Street, and Damien Harkin, 47, from Westland Avenue.
They are also charged with conspiracy to commit murder.
The case was adjourned until Thursday.
One of the defendants, Damien Harkin, is a brother-in-law of SDLP MLA Pat Ramsey.
All three defendants refused to recognise the court when the charges were put to them.
The court was told by a detective constable that she believed she could connect the accused to the charges.
The officer also said that she believed all three were members of the new IRA.
However following legal arguments the district judge agreed to adjourn the hearing until Thursday, when all three will appear by video link.