Londonderry man acquitted of rape and sexual assault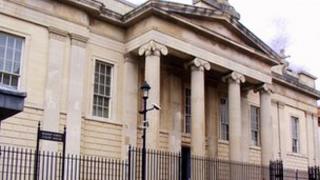 A 31-year-old man has been acquitted of raping a 21-year-old woman in the bedroom of his family home last year.
Stuart Alson Ward, from Lyndhurst Road, was found not guilty at Londonderry Crown Court by a majority 10-1.
The jury also returned a unanimous not guilty verdict on a second charge that the defendant had sexually touched the complainant on the same date.
Mr Ward wept uncontrollably in the dock as he was acquitted of both offences.
Upon his release he embraced members of his family, several of whom were also crying.
The complainant, who was in court with members of her family for the not guilty verdicts, also wept.
The prosecution case against the defendant had been that he committed the offences in his Lyndhurst Road home in the Waterside area of the city.
Mobile phone
It was alleged by the complainant that together with her female friend, she had met the defendant in the Bonds Street area of the city as she and her friend were returning from a night out in the city centre.
The complainant, who had previously gone out with the defendant, said she then agreed to return to his home for drinks.
Her girlfriend, who had left, later returned to give the complainant her mobile phone which she had left behind in her girlfriend's car.
It was alleged that the defendant then "took the hump" when the complainant sent and received text messages on her phone when they were both in his bedroom.
The complainant accused him of sexually touching her before raping her on the bed.
The defendant told the jury that the complainant had initiated the sexual touching and had consented to having sex with him.
Following just over two hours of deliberation the jurors returned with not guilty verdicts after which Judge Fowler told the acquitted man "you are now free to go".