Belfast black swan: Has the mystery been solved?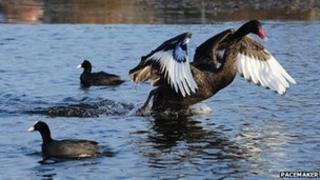 The mystery of how a black swan came to be swimming in a park in Belfast may have been solved.
In May, a black swan belonging to Sir Gerry and Heather Robinson went missing from their County Donegal estate.
After watching a report on BBC Newsline, Sir Gerry felt the swan in Belfast had more than a passing resemblance to the one he lost.
Sir Gerry said it is just too much of a coincidence and is hopeful it is their long lost swan.
"We got the swans in December last year and named them Barack and Michelle and Michelle disappeared in May.
"We did a lot of publicity trying to find her and now she has turned up, it's terrific.
"She now has two young swans to look after which hopefully will keep her very much in position.
"We are convinced it is her.
"It is very unlikely not to be because black swans are a very rare thing in this part of the world.
"From what we've seen she looks precisely like ours with exactly the right combination of black and those white feathers underneath the wings."
Impressive
Businessman Sir Gerry Robinson, who is best known for the BBC series Can Gerry Robinson Fix The NHS?, owns Oakfield Park near Raphoe in Donegal with its award winning gardens.
Every year the Robinsons host an annual open day which has in the past raised thousands of pounds for local charities, including the Alzheimer's Society Of Ireland and the Marie Keating Cancer Foundation.
The swan was spotted in Belfast at the Waterworks which, as the name suggests, was the source of Belfast's water supply in the mid-19th century.
It became a public park in the 1950s and today is an oasis for wildfowl.
So it may not be that unusual for a young, lost swan to choose the Waterworks for its new home.
Males and females are similar with black plumage and bright white primary feathers in the wings, though the white is frequently hidden at rest.
The black swan has a musical trumpeting call with flute-like notes and nasal honks.