Londonderry charity investigates loss of counselling data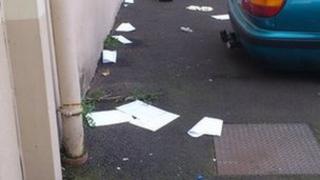 An independent review into how notes of confidential telephone counselling calls taken by a Londonderry charity ended up on the city's streets has ended.
The review found deficiencies in the management of its Derry office and in how it was being supervised by its head office in Belfast.
Contact NI runs Lifeline, a response service for people in distress.
In July, dozens of telephone log sheets were found around Derry city centre.
At the time the Information Commissioner did investigate, but no action was taken against the charity.
This fresh investigation was initiated by Contact NI and overseen by an independent panel.
Contact managing director Fergus Cumiskey said it was an embarrassing incident for the charity.
"Confidentiality is critical to our credibility with callers.
"So in order to re-establish a sense of confidence in the service and to really to discover how this had happened on our watch we initiated an independent review to ensure this will never happen again.
"The biggest learning from the investigation is if you are going to have a centre of excellence in one part of the country, you need to replicate it exactly to the letter in another part of the country.
"To that end we have invested heavily in the Derry office, we now have full and part-time staff there and that makes all the difference.
"We have also moved to a completely paper free system so that this kind of event can never re-occur."